Clearing Storm, Simi Valley near Santa Susana Pass, 01/24/01
Running in the Rain
Wednesday, January 24, 2001
Copyright © 2001 Gary Valle'. All Rights Reserved.
Running, or walking, or just being outside in the rain is invigorating. Especially in Southern California. We just don't have the opportunity as often as some other areas of the country. Throw on some polypro, rain gear, some boots or old running shoes, and you can be in the middle of it.


Keep in mind that "in the middle of it" could include flash floods, falling rocks. lightning, and other hazards!
This VW+ size block fell from a sandstone cliff in the Simi Hills following our January 10-12 rainstorm. If you recall there were some cold temps following that storm. Rain water seeping into cracks around the rock, and then freezing, may have given the block the final nudge needed to fall.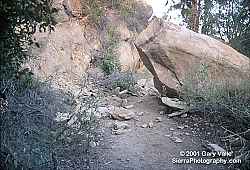 Rockfall, Simi Hills, Jan. 2001